Local SEO 101: Renting Websites for Mega Money!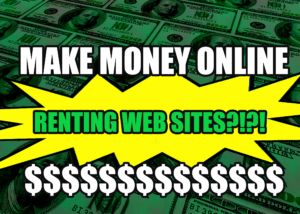 The easiest way to start off with SEO as a beginner and bring in some money is probably going to be website renting. There is tones you can do starting off, but this can be a easy way to begin. I'll go over some other stuff later, but we'll look at this for now.
The gist of it is, you make a website. Find a local search that you can dominate, and either rent the site out to locals, or try to sell affiliate products locally. Keep in mind that each keyword we target will generally get between 10 to 50 searches a month. While normally this is quite low, it's actually very good for local SEO!
Our first priority will be getting a suitable domain name and some hosting if you don't already have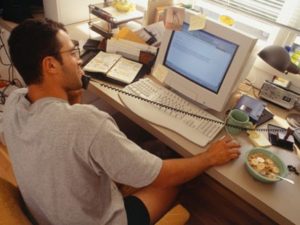 some. Domain names are, in the simplest terms, the url that is assigned to your website (www.abc.com). Domain names also have various stats assigned to them, kind of like weapons in an rpg, or specs on a car. I'll talk about these stats, or "metrics" more below. There are also subdomains, which are little bits or sides of a domain granted to you. Common examples are the free blogs you can get from Tumblr, or even a Facebook profile page. All of the free blogs and social media account pages you get are subdomains, and can be used in many different ways. However, they are not idea for your initial rental pitch. They will come in handy later though.
There are advantages and disadvantages to both. For rentals however, we'll be using expired domains. First off, let's talk about those metrics!
In SEO communities, you'll often see PR, PA, DA, TF and other various abbreviations passed around. We want to look at and focus on PA/DA, and TF/CF. PA (page authority) and DA (domain authority) are metrics created by the SEO firm Moz to judge the ranking ability of a domain. One the other hand, you have TF (trust flow) and CF (citation flow) from a competing SEO firm called Majestic. These are somewhat different in nature from DA/PA, but largely mean the same thing to you in the end. Citation flow is the amount of citations (or links from other websites pointing to the domain) that a domain has. Trust flow, is the score given that is an average of the uniqueness of the links, the TF/CF of the domain linking to you, and the overall quality of your domains backlinks (links pointing to you).
In my best experience, it is wise to use both PA/DA and TF/CF to judge a domain. PA/DA scores are not updated as often as TF/CF, and Moz's database of links to every site is nowhere near as accurate as Majestic's. Regardless, PA/DA is still a great measure of the ranking power of a site. TF/CF also plays a role.
For a good domain to use, I usually check Hammerhead's domain list. He posts 9-15 domains daily with the metrics to go with them. Most of them are the same, but you'll want to pick one with as high of a trust flow, PA, and DA as you can get. For example, a PA of 20, and DA of 15 would be fine. Likewise, a PA of 15 and DA of 20 would be great too. As long as the PA/DA is above 10-12. Higher is better, and in the end will save us some trouble. Look for a TF above 10 and a CF below or at least on par with the TF score. If you have a domain with a low TF and a high CF, that means it has been spamed already, and will not rank at all.
Be sure to check what the domains name/word/phrase means. I was about to buy a German domain once, but my intuition told me to run the name through Google translate and Google images. Turned out to be a phrase that's associated with German Neo-Nazis. Yikes!
Anyway, the word doesn't rally matter though as long as it isn't associated with Nazis or hate groups/crime. One on there I saw recently was"radioshora". You could get that one, and put a site about plumbing on it. For local rentals, the name won't really matter for the most part.
You can also check Expireddomains.net. They are a free list that is updated daily with expired domains. You can use their search filters to find some nice gems. The downside to them, is that more often than not the "good stuff" has already been taken. Likewise, it is extremely time consuming to use them since you do have to manually check the DA/PA/TF of every domain before you buy. In my opinion, it's probably easier for a beginner to just use Hammerheads free list (or even pay for a month of his premium list) and just get a domain that has been mostly filtered for you in advance.
Now that you have the domain, you'll need hosting. Basically, you can go with either Blue Host, Namecheap, or Host Gator. Namecheap may be the best one for a beginner, since you can purchase your domain with them and seamlessly host it in just a few clicks, whereas it's a little more complicated for a beginner to get the hang of transferring the DNS and IP's on the other hosts and registrars. There are others, but those three are the most friendly towards SEO's. All of them have a free, automated wordpress set-up tool, which is cool too.
Once your site is set up, we need to get some plug-ins installed. I mainly use:
wp-supercache
wp-spam shield
all in one seo pack
XML Sitemap & Google News feeds
These are essential for the site. Once installed, we need to start on some content.
The content depends on what you want to target. First, think about expensive services. Things like nose jobs (rhinoplasty), mommy makeovers, emergency plumbing, luxury landscaping, financial services, Limousine rentals. Anything where the renter will stand to make at least $1000 off of a single lead from your site. We can target lower too, but that also means far less income off the site.
The other way you can angle it is to find something on Amazon or Clickbank that could also be something you would search for locally. Piano lessons, dog training, woodworking classes. These are all local services that would not really bring in much if you rented it out, but people still search for them. Amazon and Clickbank both offer programs, products, and books about these topics which you can earn commissions from. The keywords typically have very little competition though since it's local with a low search volume. This strategy works, but you'll have to do a lot of pages like this.
For example, you could find a book on Amazon on "How to Train Your Dog", and make a site targeting Memphis, TN for example with the keyword being "Memphis TN Dog Trainers". While people searching for a local dog trainer are actually looking for a dog trainer, they may very well take interest in a book that tells them how to do it themselves. The great thing about Amazon is that when someone clicks your affiliate links, even if they aren't interested in what your promoting, you still earn a commission from anything they buy off Amazon while your tracking cookie is active on their account. So if the go to buy a different book, some video game, or some batteries instead, you still get some money from their purchase!
Once you've decided on what type of product or service to target, it's time for the easiest part, getting an article. There are three ways to do this. For the first method we need to start this as a page, so click "add new page" on your WordPress dashboard. Then type in your service/product in Google, grab whatever Wikipedia article that comes up, and copy paste 1500 words into the content area. Wikipedia content is public domain, so there are no worries about copyright infringement. Depending on the article you find, you will need to go add your keyword into the article in various spots. Probably every other paragraph. Next, you need to find some related youtube videos. 2-3 should do. Embed them into the content at the bottom. Next, you need to add three links. Again, search your keyword, and find the three highest ranking sites. Copypaste the url for each one by one as hyperlinks. If you want, you can take your copypaste job and spin it just for extra safety.
Once you have this done, click text (next to "visual") to see a basic version of your draft with the html visible. Copy and paste this into a notepad document and save it. Now you have a template written up that you can change out the city/state part of the keyword and target new cities over and over again.
In my experience, I have had a few of my rental sites deindexed randomly by Google. Likewise, copy and pasting (even spun) isn't going to work if we are doing affiliate products rather than renting. To avoid this, you either need to write your own content, or buy some. I-writer is what I personally use, as you can get decentish content written for you quickly and cheaply. You only need 300 word at least to rank easily, which is $2 on iwriter. Get a unique article for each city you are targeting, so that it looks like natural content about our subject matter.
Finally, you should add a Privacy Policy. Google gives priority to sites with a privacy policy. Just copypast this template, and add the info in the brackets:
"This blog does not share personal information with third parties nor do we store any information about your visit to this blog other than to analyze and optimize your content and reading experience through the use of cookies.
You can turn off the use of cookies at anytime by changing your specific browser settings.
We are not responsible for republished content from this blog on other blogs or websites without our permission.
This privacy policy is subject to change without notice and was last updated on [date]. If you have any questions feel free to contact me directly here: [your email]"
Be sure to disable the robots.txt for this page, so that it isn't treated as duplicate content.
The final step is to go to https://www.google.com/webmasters/tools/submit-url/ and enter in the url for each cities page. You will need a Google account (you should probably make multiple google accounts for future projects). You can submit up to 50 per week. Normally, if you don't do this, it can take anywhere from one week to six months for Google to crawl and rank your page. By submitting the url, you can have it ranked within hours.
Now, hopefully your ranking. If so, the next step is to contact people if your are planing to rent the site. Just search the city+keyword and find business that are on the second page or lower. You can either email them, or give them a call. Just explain that you run a website that is ranking 1st, or are on the first page of results and you want to see if they want "exclusive advertising" on your site. You can offer to charge anywhere between $50 – $100 per keyword (though I would say $500 for bigger cities). You can also offer a whole state for $1000. The pricing is really up to you though.
If cold calls aren't your thing (or you just suck at salesmanship like I do), then you can go to any number of places like Upwork to find professional cold callers that can help you. Likewise, Fiverr has plenty of people who will do cold calls as well.
In general, it's best to put as much on your site as possible, rather than one domain for each state. So, try to get as many states and cities as possible. This is basically how megasites like Yelp or Zillow work.